What is an influencer?
An influencer is a person who has the ability to affect the opinion of a large pool of people regarding particular topics, and who uses this influence to promote brands, products and services of companies they collaborate with.

The act of promoting a brand products and services via influencers is called influencer marketing.
From this brief definition, we can draw 3 elements that need to be in place in order for someone to be called an influencer:
The ability to affect public opinion on specific topics, measured in impressions, reach and engagement.
The use of this ability to influence people for commercial purposes, where the influencers promote brands' products and services in exchange for compensation.
A pool of people following them, usually within a niche they actively participate in, where the size of the pool depends on the size of the niche.
The word influencer comes from the English verb "to influence". Blogger, Vlogger, Instagrammers, YouTubers are some other complementary terms for influencers, referring to the primary medium used.

The word has become mainstream over the past few years - especially as Instagram has become more and more popular.
In this blog post, you can learn about key facts and common questions about influencers, such as:
What are social media influencers?
While the definition of influencer above is a generic one, it is also worth considering the media influencers use to promote their messages to their audience, in particular social media.

While in the past influencers where mostly seen on TV, radio and in real life such as at sport events, today, they gather their following and share their messages primarily online. In particular, social media platforms, such as Instagram, Tiktok and Twitter are the main media through which influencers engage with their community, as well as blogs and other wesbites such as YouTube, Twitch, personal blogs and online forums (reddit, for example).

We call social media influencers those who use social media to convey messages and actively engage with their audience.
What is a social media content creator?
A social media content creator, often referred to as a content creator or digital content creator, is a person who creates digital content and shares it through social media platforms, with the intent to inform, educate or entertain users.

Content can come in a variety of forms, from instagram posts, reels and stories to full lenght blog posts and youtube videos, passing through tiktok videos and more.
What is the difference between a content creator and an influencer?
Looking at the last category we highlighted above, which includes all of those people who became influencers not because of who they are, but because of the specific content they produce, we understand that becoming an influencer does not necessarily mean being famous or commanding opinion leadership on specific topics.
As a matter of fact, today, is not uncommon to find profiles on social media that are extremely popular without even having one single and clearly identifiable person behind them. These profiles are usually popular just because of the content they produce. We call these social media content creators, and they can or cannot be influencers depending on whether they use their influence to enter commercial collaborations with brands.
At the same time, an influencer is very often also a content creator, in the sense that they need content to convey their messages, and use this content to influence purchasing behaviour. However, you will find that for some influencers, for example celebrities or professional sport people, the quantity and quality of the content they produce does not impact how influential they are, because they draw their influence from something else, for example their job.
To conclude, the boundaries between a social media content creator and an influencer are blurred, and most often a creator will also be an influencer, while an influencer does not necessarily have to be a creator (in the sense that the quantity and quality of the content they produce does not impact how influential they are, because they draw their influence from something else.)
Who can become an influencer?
In theory, anyone can be an influencer. However, just owning a phone with internet connection and starting a social media account will not be enough.

Your best shot at becoming an influencer is that you already have as strong interest (it can be anything really) and feel people with the same interest could find your point of view interesting about and value your opinion.

Most importantly, an aspiring influencers need to have the courage to share this interest on social media with strangers, as well as the willingness to spend a lot of time on social media.

For example, you are a great mother of 3 kids, and you feel your experience with being a full time mum can be useful for young women who want to start a family. Even better, maybe you have an interesting combination of passions or interests, like sewing and boxing? Do you love eating out or maybe you're a great cook yourself, maybe with a talent for a specific type of cuisine? Anything that can attract interest in your profile - while being particular and personal enough to make you stand aside from other people with the same interest - is gold.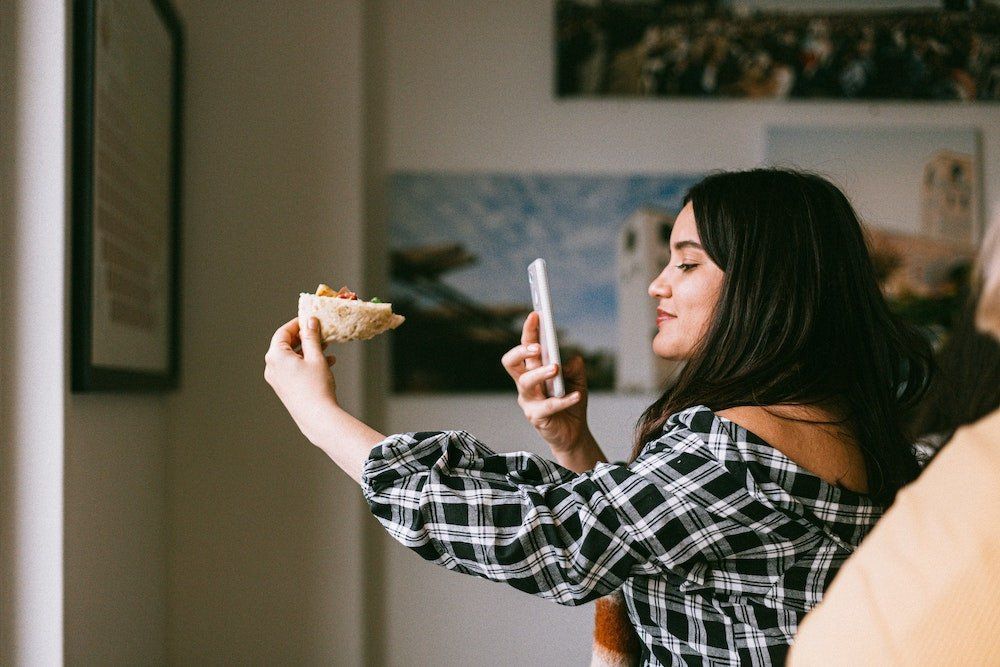 How do you become an influencer?
As we said, It doesn't take a certain style, age or appearance to be an influencer, but you need to know how the platform you want to use works and how to create content that other people want to see, like, comment on and share with their friends.
You must also want to show yourself in private moments and be in contact with many people as you gain more and more followers. There is no being an influencer without sharing content and engaging with other users in your community.
While there is secret formula to become an influencer, in general there are a few different reasons behind an influencer ability to condition public opinion:
because of their authority, knowledge or position on a specific topic or subject.
because of their job (usually publicly relevant: think of artists and musicians, actors, politicians, sportsmen etc).
because of their lifestyle, interests, crafts and creativity.
In general, you will need a mix of these ingredients to have a chance at becoming an influencer:
You need to have one or few interests (or passions) that you feel like opening up about completely and share with strangers over social media.
You need to have at least one communication skill you master, either written or graphic (for example you make great pictures or videos).
You need to invest a lot of time creating content and engaging with people in your community, brands and influencers.
You need to stay updated on latest social media trends.
You need to proactively reach out to brands and keep your portfolio of collaborations up to date.
What do social media influencers do?
Being a social media influencer can become as much as a full time job, so there is a lot of different activities that go into becoming one. Some of these activities are what their audience see, but many more happen in the background.
First, the majority of time is (or should be spent) producing content and engaging with their community on the platform of choice. This includes for example scripting, shooting and editing and publishing pictures and videos, but also following, commenting and answering followers, liking and messaging with other influencers and your followers. Remember, good influencers post several times a week, some of them even more than once a day. However, only a small part of the content should be sponsored, usually no more than 1/5 pieces of content should include sponsorship.
Second, an influencer needs to discover and be discovered by brands that fit their interests and their social media personality. Usually, it's brands that reach out to influencers, but an influencer can also decide to reach out to brands they admire and would like to work with.
Third, there is the collaboration management activities. Before creating content promoting the brands product, there is a long process of negotiation and learning about each other needs. For example, an influencer will have to prove the company they can reach and engage the right community in order to deliver value to the brand in the form of impressions, traffic or sales. They will also have to negotiate which products they will promote, how will they speak about the brand, as well as what they will get in return from their promotion (commission of sales generated, fixed sum, free products only etc).
Fourth, the influencer will produce the sponsored content and often they will be required by the company to share the results before publishing it on their channels.
Finally, since being an influencer is effectively a job, the influencer will also need to manage all the administrative tasks that are related to manage their own business, such as setting up a company, creating and sending invoices and ensuring they get paid, filing tax reports etc etc.
Clearly, being an influencer takes a lot of work, and that's why most established influencers sign deals with agencies to help them managing part of this work, especially the administrative and collaboration discovery part. However, agencies will take a big cut of your collaboration revenue, and managing the relationship with the agency often becomes a job in itself.
Luckily, today there are some other options for influencers to manage their work while remaining independent.
One of the best ones is for sure Make Influence, which offer influencers several tools to discover brands, manage collaborations, tracking performance and getting paid directly to your bank account. The best part, it is 100% free to use Make Influence as an influencer, and you just need 1500 instagram followers to get started.