Christina is the owner of Nab Nordic, a store for newborns and children fashion and accessories. They started out as a physical store, but quickly realized that a webshop was a must - especially when the whole country closed down under Covid-19. For the launch of their webshop, they started looking into influencer marketing , but quickly encountered some challenges.
Choosing the right influencers is critical to generate sales.
When Nab Nordic contacted us back in January 2021, they emphasized their challenges in finding the right influencers to promote their products and brand on their newly launched webshop. As a small and relatively start-up ecommerce business, it was important for them to get the most out of their budget in terms of conversions.
The method they used was to screen Instagram for influencers who potentially fit their brand based on number of followers and profile content. For this reason, They had minimal data to decide on the basis of and therefore searched a bit in the blind.

" ...Instagram is a large platform with so many users, so it is difficult to find out who are the right candidates for a collaboration. The number of followers is just a number of followers, and you can increase your followers in many ways - it's what lies behind that is important ", says Christina.


When they joined Make Influence, they instantly got access to a pool of 1300 verified influencers, and could access all of their data, from impressions to audience demographics and location, so that they could base their decision making about new influencers based on real data and not vanity metrics or gut feeling. Just choosing influencers this way saved them a lot of money, they would have otherwise spent paying them based purely on the number of followers.

"The best thing about using Make Influence is that we have, roughly speaking, been able to "shop" influencers. Combining what an influencer likes to promote with their performance insight and demographics has proved to be super useful. "



If you also want to avoid working blindly when scouting new influencers, you can create a free account on Make Influence and look through hundreds of influencers data.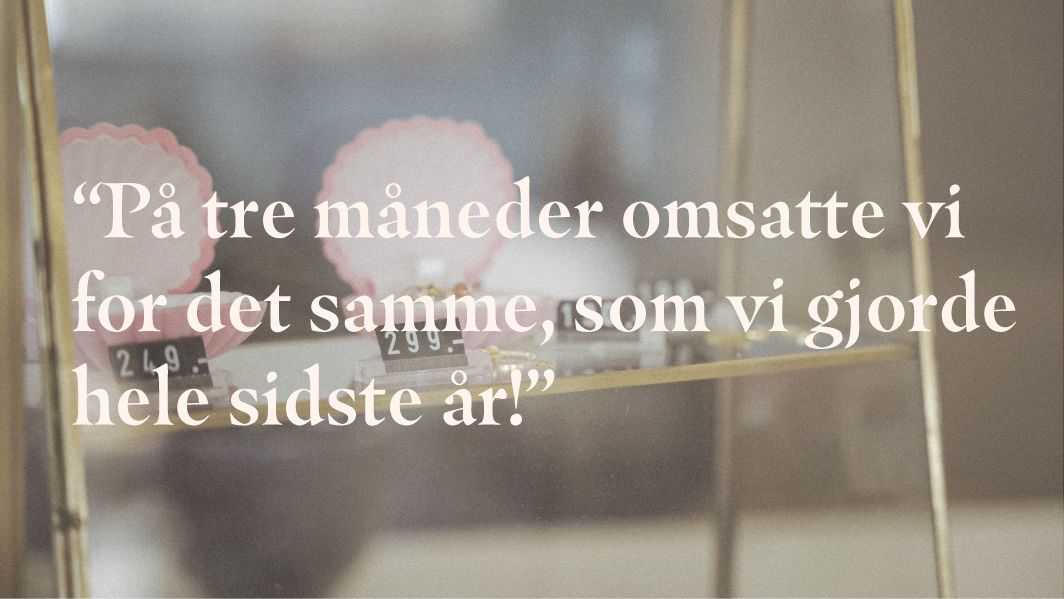 How Nab Nordic chooses their influencers


Have tried sending some clothes to an influencer, but haven't got much out of it? Maybe you got more traffic - but almost no sales. Maybe you are not even able to track how many sales you generated, and so the return on your investment.

Sales are, in our opinion, is probably the most important validation when evaluating the performance of a marketing channel - especially for a small and start-up e-commerce business that may have a tight budget.
There can be several good reasons why you may not be getting the desired sales with influencer marketing:
1. You forgot to check the target audience demographics.
2. You forgot to check the interests of the influencer.
3. You forgot to check geography.
These are 3 very important factors for you to be successful with the influencers you work with.
Imagine that a store sells food to the target group 29-50 years and only distributes in Denmark. The store is asking an influencer to promote their brand new product category of liquid spices. Let's say you find this influencer who has +50,000 followers, but half of them are from India and the last half are mostly interested in gaming - this influencer's primary target group is also men aged 18-26 years. Can you figure out where we want to go? Even though an influencer has many followers, that does not mean that it creates value for your business. These factors are crucial to the success of your campaign.
If you are in doubt about what data you should be aware of when making influencer collaborations, then you can advantageously download and read our white paper with indispensable influencer data by clicking below.
We can not stress enough how important it is that you choose the influencers that match your target audience.
Let's play with the idea that you as a company shoot blindly and maybe just choose based on the number of followers and aesthetic content - well, then we might end up having this problem: no sales = you and the influencer get a bad experience, and both brands suffer from it.

Make sure you get your target audience as defined as possible - you can download our buyer persona template if you are not entirely sure how to do it.
Of course, finding the right influencers and succeeding also requires dedicating your time to it. This is something that Nab Nordic realized quite quickly. The right influencers do not always come to one by themselves - you will have to be active in relation to it. In addition, it is of course also important that you have a thoroughly tested webshop and a
good remarketing setup
. That way, there is a much greater chance that you will achieve the conversions that we all dream of.
400% increase in revenue in just 3 months.
It took Christina some work, but results came quickly after she started recruiting influencers after a thorough and meticolous research based on data provided by Make Influence.

Of course, it also allowed her to quickly see it on the bottom line. In collaboration with the influencers, she actually managed to achieve an increase of as much as 400% in turnover in just three months.
"After joining Make Influence and getting influencers on, we have had the same turnover for the past three months, as we did all last year," says Christina.



In addition to sales, we at Make Influence experience that Influencer marketing is one of the most effective ways to generate traffic to your webshop. First of all, there is a huge branding value in this, but it ultimately also leads to more sales as you can leverage the traffic in your re-marketing .

"After that, we were on a roll, and now it requires a lot less management and research time to keep up with the good results" says Christina. "
Do you dream of getting as much success as Nab Nordic with influencer marketing? You can start by following these simple rules.
1. Get an hold of your target audience, and make sure you write it black on white.
2. Ensure the customer journey from your landing pages to your checkout is working smoothly.
3. Decide what goals are most important for you when it comes to influencer marketing within your overall marketing strategy.
4. Find the right influencers based on target audience, industry & geography.
5. Give the influencers their creative freedom - they know best how to hit their target audience.
6. Dedicate some time to the process, and have a bit of patience.
At Make Influence , we have generated more than 1.5 million euros in sales for businesses through influencer collaborations.
When you join Make Influence, you get access to our influencer directory with thousands of influencers, and all the tools to recruit them, analyze their performance and pay them out based on the results they generate for you.