Black Friday and Black Week are approaching and to better understand what you should do as an e-commerce business, we've taken a look at last year's Black Week data on Make Influence.
When we reflect on last year's sales month, it becomes evident that influencer marketing, especially pay-per-performance campaigns, wielded a significant impact on sales.
Companies that used the potential of multiple micro-influencers, enticing them with deals and discounts for their unique audiences, achieved remarkable success through the influencer marketing channel.
Taking a look at last year's Black Week
Let's delve into the performance of the top 30 stores on Make Influence during Black Week last year.
On average, these top-performing stores on Make Influence raked in an impressive 144,000 DKK (equivalent to €20,000) in revenue during Black Week. This marked a staggering 90% increase in revenue compared to an average 7-day period, underlining the surge in influencer-driven e-commerce actions.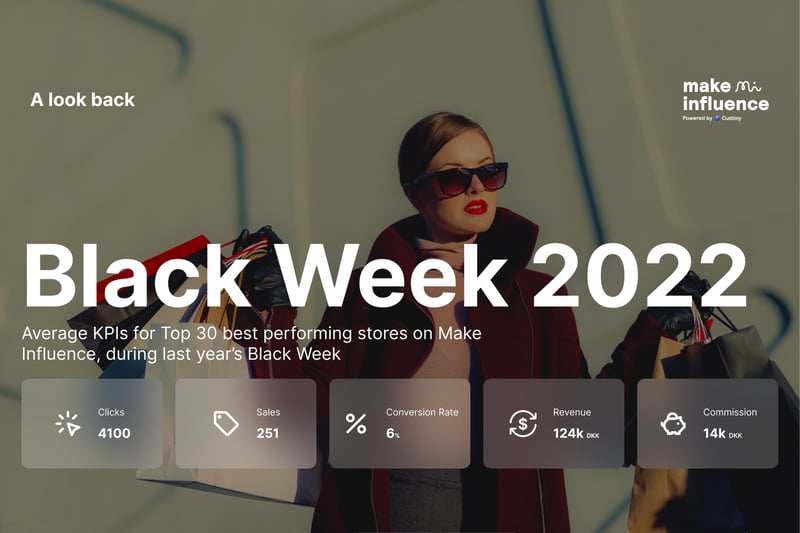 On average a well-performing e-commerce store during Black Week on Make Influence made:
Clicks: 4100
Sales: 251
Conversion rate: 6%
Revenue: 124.000 DKK (€20.000)
Commission paid out: 14.000 DKK (€1.800)
These stores used multiple micro-influencers per campaign with pay-per-performance campaigns. This incentivized the influencer to sell more, and with bigger discounts for their audience, they were more than willing to advertise them.
Comparing Black Week against an average week
When we compare these figures to what we'd typically see in an average 7-day period for businesses on Make Influence. Not surprisingly the conversion rate increased a lot during Black Week from 3.9% to 6%, a whopping 54% increase.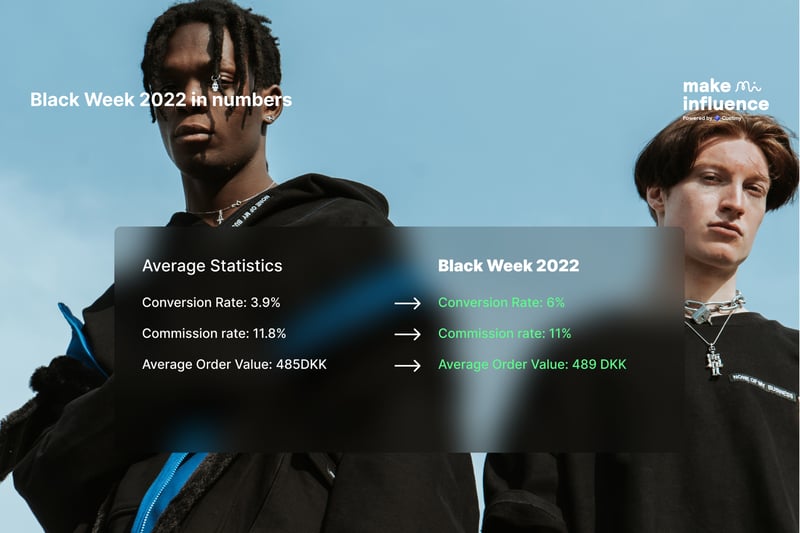 Interestingly, the Average Order Value increased, even though we often see bigger discount promos during Black Week. So consumers placed much larger orders than we typically see during an ordinary influencer campaign.
During this time, the commission rate took a small dip, which is quite usual for e-commerce stores when they're providing significant discounts. However, it's essential to note that the increase in the conversion rate more than offsets this change from the influencer's point of view.
In other words, they ended up selling more, which more than made up for the slight dip in their commission rate.
Black Week is therefore an optimal time for e-commerce stores to run influencer campaigns considering the significant boost to KPIs during this time.
Especially when you consider the increase in CPM prices on paid channels such as Facebook Ads.
Want to create a successful influencer Black Friday campaign, book a demo with Make Influence today.
What types of industries do well on Black Week?
Black Week, with its Black Friday core, is a pivotal moment for e-commerce. Yet, not every industry experiences the same level of success during this frenzied shopping season.
By analyzing data from the previous year, we can uncover trends that shed light on the industries that have truly mastered the art of influencer marketing during this intense period.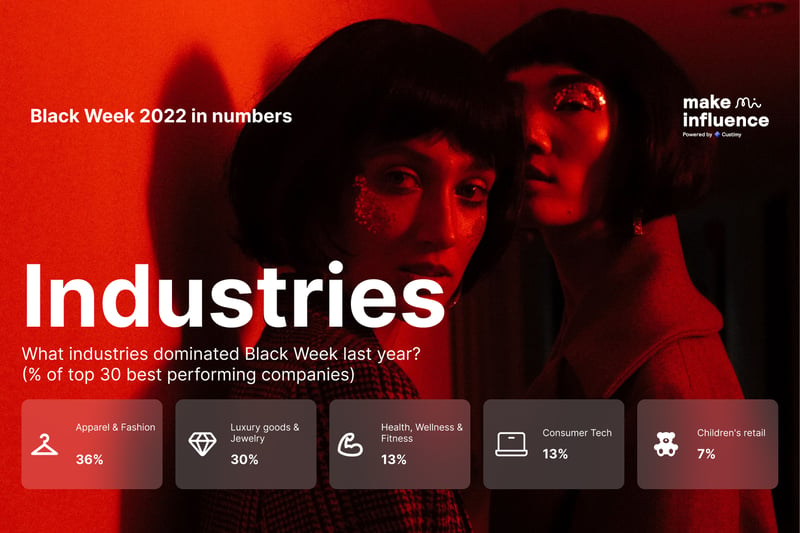 1. Fashion, Fashion, Fashion (36%)
It's no surprise that Apparel and Fashion reign supreme, constituting a substantial 36% of the top-performing businesses during Black Week. Fashion's allure, style, and ever-evolving trends make it a hotspot for consumers seeking the best deals. Here, influencer marketing takes center stage, boosting the success of these brands and appealing to style-conscious shoppers.
2. The Radiance of Jewelry & Luxury Goods (30%)
Jewelry & Luxury Goods take the spotlight, securing 30% of the top-performing positions. Black Week provides a unique chance for consumers to indulge in higher-end purchases. Influencers play a pivotal role by endorsing exquisite jewelry adding allure to Black Week's offerings.
3. Wellness, Health, & Fitness (13%)
The Health, Wellness & Fitness sector garners its own share of the spotlight, representing 13% of the top performers. As consumers prioritize their well-being, influencer endorsements have been crucial in promoting health-related products and services. This segment demonstrates the flexibility of influencer marketing, catering to a diverse range of needs during Black Week.
4. The Ascendance of Consumer Tech (13%)
Consumer Tech is emerging as a force to be reckoned with, constituting 13% of the top-performing companies. In a world driven by technology, consumers are actively seeking the latest gadgets and innovations.
In summary, these insights highlight the versatility and potential of influencer marketing across a spectrum of industries during Black Week. From fashion to luxury, health to technology, these sectors have harnessed the power of influencers to engage eager shoppers, achieving notable success during this retail extravaganza.
Setting an Effective Black Week Influencer Strategy
As e-commerce marketers, nailing influencer marketing during Black Week might seem like a daunting task. However, knowing where to start and how to structure your strategy can be the key to making this Black Week a monumental success.
Step 1: Set Clear Campaign Objectives
Before delving into influencer recruitment, let's begin at the top level: campaign objectives. Defining these objectives not only shapes the campaign, but also guides us in selecting the ideal influencers for the job. Whether you opt for a bunch of nano-influencers, a couple of micro-influencers, or a single macro-influencer, your goals should be crystal clear.
As we gear up for the Black Week frenzy, it's crucial to remember that it all boils down to one thing: sales. But let's rewind just a tad. At Make Influence, we see a few critical campaign types that e-commerce businesses can run leading up to Black Week:
1. Conversion Campaign
A conversion campaign is your golden ticket to driving sales. It's the crux of a successful Black Week strategy. In this setup, influencers go all-in on promoting and selling your products, earning a percentage of each sale they make, such as 10% per sale. This not only fuels sales but also aligns your company's goals with those of the influencers.
2. Lead Generation Campaign
Leading up to Black Friday, your pre-Black Week campaigns are equally vital. Consider a lead generation campaign with your influencers, collecting leads for various purposes, such as newsletter signups, live shopping events during Black Week, or app downloads. In this scenario, influencers earn a fixed amount for each lead they generate.
3. Traffic and Branding Campaign
While branding campaigns may be less common during this season, they're not off the table. Running them throughout most of November can boost your e-commerce store's visibility. The objective is to drive traffic to your website, building an audience you can retarget later. In this setup, influencers are compensated per click.
Step 2: Handpicking the Right Influencers
With your campaign objectives in place, it's time to scout and enlist influencers. Our experience has shown that micro-influencers in the range of 10,000 to 100,000 followers can work wonders during Black Week, especially regarding conversion rates.
When selecting influencers within this range, prioritize those with a track record of success in your industry. Influencers often have a sweet spot, focusing on 2-3 niches like fashion, jewelry, fitness, and more.
Step 3: Tracking your results
As we move forward with your Black Week influencer campaign, it's essential we also focus on our we track our results. Measuring success and making data-driven decisions is crucial. This means closely examining metrics such as conversion rates, sales performance, click-through rates (CTR), engagement levels, and return on investment (ROI).
Make Influence equips you with the tools to effortlessly track the individual contributions of each influencer within your campaign. By doing so, you gain a clear overview of the top-performing influencers, enabling you to identify potential brand ambassadors for your products. The platform's intuitive data insights simplify the process of leveraging multiple nano and micro-influencers for your conversion campaign while maintaining an overarching view of the campaign's performance.
With the power of analytics, you can make informed decisions, refine your strategy, and optimize your Black Week influencer marketing to enhance overall effectiveness. This iterative approach will enable you to fine-tune your campaigns year after year and ensure a continued and lasting impact.
Get ready for Black Week with Make Influence
Want to recruit, track, and pay your influencers for their performance during Black Week? Start using Make Influence today.